Alright guys sorta want to start up the thread with my little 2 cents review on the 2010 anime I have viewed so far...With 2009 gone 2010 seems to be a horizon in the land of anime. With Big titles and anticpated anime going on...WHAT THE HELL LET's GET ON TO IT!!!
Alright first I would like to only focus on the 1st episode of each new anime. Whether it plays out good, I will continue, if it does not or doesnt intrigues me I won't. Hype will also be another factor whether I would like to continue just to see what's going on. Alright lets get into it!
Sora no Oto:
WHA!!! This is K-ON! The main premise for how this goes, is girl (I'm not good with names in anime)joins the military with a trumpet just to learn music. Her motive due to another "blonde" hair girl (don't worry this is pretty much the 1st episode) "motivates" her to go to the military in search of music. She then goes onto this village with a tradition with the golden trumpet and some demons, that you know will serve as a plot device throughout the whole series. Not to mention that this anime feels alot like K-ON! with it's cast of female characters. WIth the K-ON! esque style (not done by Kyoto Animation) I think this anime does pretty well in establishing the universe but yet establishes any depth in terms of a first episode.
Verdict: Good, but don't seem to find anything to keep going
Baka To Test To Shoukanjuu:
Ahhh the Moe crowd gets another one of their infestation of Moe anime. BUT that doesn't mean that this anime is bad. It's actually Fuc*&in good! To my surprise this anime not only establishes the atmosphere and concept but they went straight to the point in going in the first step in advacing the overall plot. Alright Kamina Aya... I mean Akihisa Yoshii is placed in the F class not sure what that means? Check this anime out. Basically being the F class in such a good school in where he goes is the bottom of the bottom of the heap. With dissatisfaction raging inside class F, They then declare war through the whole school, with the use of ESM's of course. I'll wrap this review up by saying that though Moe this anime is one of the fine examples that you can use such a overused concept such as students fighting in a school w/ powers X, and Y but using it and meshing it well into such a fine product. Sure this is nothing new but anime itself borrows alot of concepts and it seems that the school days genre isn't going anywhere.
To Rekka in the forums THIS IS GOOD!
Verdict: It's good and would like to see where the characters go with my whole judgement on the 1st episode.
Durarara!!
: Just how many "ra" are in this anime? 3 I counted...Alright just putting something in the air
I HAVE NOT WATCHED BACCANO AT THE TIME I AM TYPING THIS!!!
with that out here we go... Ok first not watching Baccano but reading the main premise at ANN had pretty much given me the story structure in this anime. Sorta like different stories with different focuses of that character in different situation, but living under the same place that is Ikebukuro. I may be wrong but what about the first episode? Well I can't say anything for sure. Serves as a great introductory episode when it comes to giving background towards the characters, (introducing them), give the whole dark tone of Ikebukuro, and also put out events that leads to more question. That's pretty much it in the first episode. Can't say much but....
Verdict: I am going on with this because the style of the anime that is drawn just fits the crime and gritty nature. Also would like to see the reveal of the whole cast and how they interject with the course of this anime.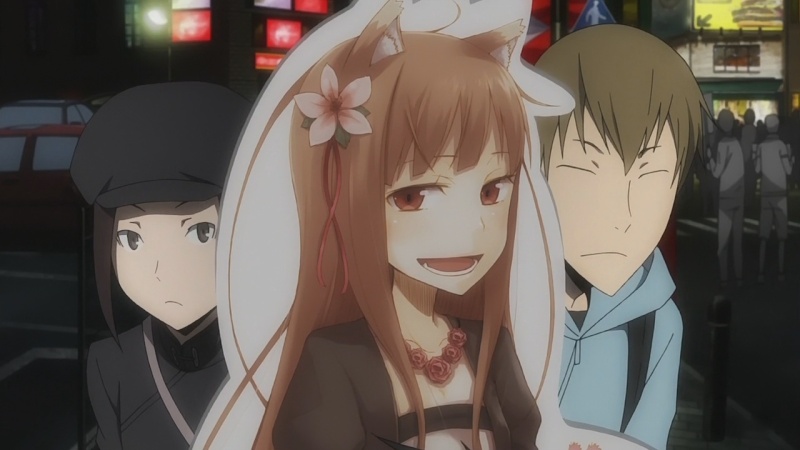 Ookami Kakushi
: As the crimson night sky appears you will see a girl with a fox mask shoving a scythe at your head. Based on a PSP game not released too long ago with the story by Ryukishi07 (Higurashi no Naku Koro Ni, Umineko no Naku Koro Ni), and Character Designs by Peach Pit (DearS, Shugo Chara) and the best animation that Ryukishi07's anime has received so it might seem that everything might go for it.....well... Hmmm judging how they structure on this first episode, it seems like your traditional Ryukishi07 type or any other horror based anime. But what makes Ryukishi07 stands out is that they incorporate moe. That aside this episode incorporates some moe, moe with some comedy, moe, guy dies, preview, more MOE. Did I mention that there is moe involved? O Oh right... What also makes this a Ryukishi07 cliche' is that the main protagonist always have to learn about his environment. Where this environment has a dreaded/ brutal past, and some sort of conspiracy with the supernatural, something abnormal definitely is in the air and then.... confrontation.
Verdict: Though really underwhelmed with the 1st episode you can't really judge it. It follows all the anime horror staples in the traditional sense of incorporating the elements listed above. Again this anime does leave alot so you can continue on so that I'll do.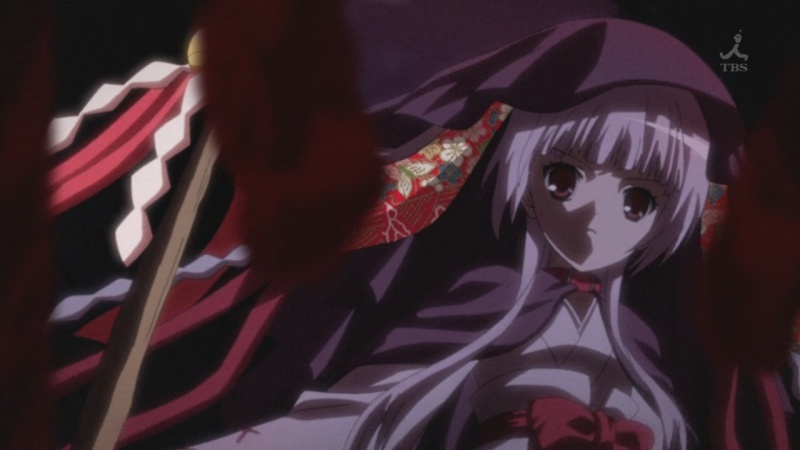 Posts

: 504


Join date

: 2009-10-15


Age

: 27


Location

: San Francisco, California



Wow, I think you made all of those look and sound really awesome! I'm gonna have to watch them now. All of them, though the topmost one mightn't peak my interest. I dropped K-on! midway through for a while before I came back to it out of principle.



Posts

: 89


Join date

: 2009-11-25


Age

: 25


Location

: Brisbane, Australia



The Green Gentleman wrote:Wow, I think you made all of those look and sound really awesome! I'm gonna have to watch them now. All of them, though the topmost one mightn't peak my interest. I dropped K-on! midway through for a while before I came back to it out of principle.
Hey man thanks ALOT! I think I really half-assed these reviews. But hey thanks!



Posts

: 504


Join date

: 2009-10-15


Age

: 27


Location

: San Francisco, California




---
Permissions in this forum:
You
cannot
reply to topics in this forum